RAW: Lita confronts Snitsky, KANE is banned from the arena by Bischoff ~ More>

TABOO Tuesday: Lita in KANE's corner still couldn't prevent KANE from a lethal layout! . . . More . . .>

ARCHIVES: Previous results of KANE's Matches

KANE ~ WWE RAW ~ 10/18/2004 Chicago, Illinois
10/19/2004 at 12:06 AM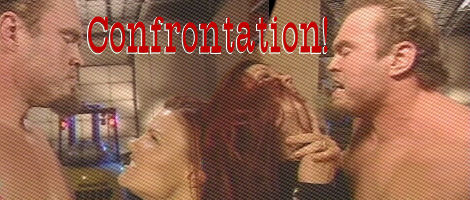 October 18, 2004
Gene Snitsky sent a clear message to Kane by way of Eugene on Monday night. First, Snitsky pinned Eugene after a pump-handle slam. Then, the unapologetic newcomer blasted William Regal with a steel chair. At Taboo Tuesday, itíll be a Weapon of Choice Match between Snitsky and Kane, and WWE fans decide if a steel chair, a chain or a lead pipe will be totally legal.
On RAW tonight, we learn form JR and King during Eugene's match against Snitsky, that KANE has been banned from the arena by Bischoff! As Snitsky laughs on his cell phone about his recent match, Lita confronts him with the responsibility of killing her son! As Sniksy smiles down into her face, she loses it, slapping the cell phone out of his hand then pummeling him and yelling until he grabs her, body slamming her into the wall and clutching her face. Putting his mug close to hers, he makes it clear to her once again that it wasn't his fault, but he says, tomorrow night her husband is going to lose his match just like she lost her baby. Flinging Lita down on the floor, Snitsky sneers as he walks off.
Credit: Qayin @ ahug4kane.com 10/19/2004

Match Results:
Gene Snitsky defeats Eugene
Victoria, Nidia & Stacy Keibler def. Gail Kim, Molly Holly and Trish Stratus
Evolution def. Randy Orton and Chris Jericho
Mr. Benjamin def. Christian, The Hurricane, Rhyno, Jonathan Coachman and Tajiri (Six-Man Elimination Match)
Edge def. Shawn Michaels and Chris Benoit (Triple Threat Match)

And soooo PROUD of it!

WWE RAW TABOO TEUSDAY 10/19/04
Milwaulkee, Wisconsin, The Bradley Center
October 19 2004 at 11:10 PM



Kane blames Gene Snitsky for the tragic loss of his unborn son. And now the Big Red Monster plans on making the WWE rookie pay dearly.
Snitsky hit Kane in the back with a steel chair during a match earlier this month, pushing Kane into his pregnant wife Lita, who eventually fell hard to the mat. One week later, Kane and Lita lost their unborn child. Snitsky has barely shown any remorse for the incident, further infuriating Kane.
And recently on RAW, it was Snitsky who gave a beating to Kane with a lead pipe.
Now, the two will meet at Taboo Tuesday in a "Weapon of Choice" Match. WWE fans will decide whether a lead pipe, steel chair or chain will be totally legal.
If either Kane or Snitsky can get to the weapon, he is free to use it. (wwe.com)
play-by-play by Justin Rowland
Posted on: October 19, 2004 at 20:54:31
We are now treated with highlights leading up into the Kane vs Gene Snitsky match.

The results of the weapon of choice is a "chain" which beat out the lead pipe and steel chair. It looks like this match is up next as they show Snitsky making his way to the ring.

Kane makes his way to the ring looking none too pleased, and the chain is dropped in the middle of the ring. Kane and Snitsky both grabbed the chain and then Kane scored with some rights and he then threw the chain to the outside and wailed away on Snitsky in the corner. Kane then sent Snitsky to the corner head first and then sent him to the ropes and went for a clothesline but Snitsky escaped to the outside. Kane grabbed the chain and went after Snitsky but missed and Snitsky came back with rights and threw Kane inside and picked up the chain.

Lita comes down to the ring to join and support her husband for this match.

Kane gave Snitsky and uppercut and grabbed the chain for himself. Kane then clotheslined Snitsky with the chain and then wrapped it around his fist. Kane sent Snitskyís head into the chain and scored with a right hand using the chain, which knocked Snitsky to the outside.

Snitsky and Kane got back inside and Snitsky has the chain and he drove it into the face of Kane and then whipped Kane with the chain repeatedly. Snitsky then wrapped the chain around the neck of Kane and choked him out with it as Lita looked on from the outside. Kane came back with an uppercut but Snitsky hit a knee to the gut and club to the back of Kane. Snitsky then stomped Kane in the corner and choked him with his boot.

Snitsky sent Kane to the corner and kicked and punched him before Kane came back with a clothesline. Kane then hit a right and sent Snitsky to the corner and charged in but was met with a boot from Snitsky. Snitsky then gave Kane a huge scoop slam and then a pair of elbow drops for two. Snitsky hit Kane with another right, but Kane came back. Snitsky then took Kane down with a big time clothesline and made the cover but Kane kicked out.

Snitsky grabbed the chain and whipped Kane on the back with it repeatedly, leaving HUGE red welts all over the Big Guy's back! Snitsky then choked Kane with the chain yet again as the fans began to get behind the Big Red Machine. Lita too is yelling for Kane on the outside as Kane is trying to get back up to one knee and get some offense in. Kane fights back to his feet and escapes the choke with elbows. Snitsky then hit a club to the back and went for a right with the chain, but Kane blocked and came back with right hands of his own. Kane was sent to the corner and Snitsky hit a side walk slam for two.

Kane sat right back up and hit some right hands on Snitsky and then Snitsky reversed an Irish whip, and both men went for a big boot on one another, and both men are down. Snitsky made it to his feet first as Kane sat up again. Lita then grabbed the chain away from Snitsky as Kane went for a chokeslam. Snitsky tried to escape with right hands, so Kane chucked Snitsky to the outside of the ring. Kane got the chain as Lita cheered him on. Snitsky then drives the steel steps into Kane's knees.

Snitsky grabbed a steel chair and drives into Kanes throat. He then rolls Kane into the ring and follows taking the chair with him. Kane made it to his feet, but Snitsky takes the chair to his throat again, and again! Kane is down to one knee as Snitsky threw the chair to the outside, going out himself to retrieve the chain and wrap it around Kane's throat to choke away! Kane tries to block and battle out of the choke and Snitsky goes ape and hammers Kane down to the mat.

Snitsky then gets the chair again and places it over Kane's neck in the same way Kane had done the first time these two met. Climbing to the top rope, Snitsky jumps off onto the chair just as Kane did with Shawn Michaels! Kane is bleeding from the mouth and nose - blood is everywhere as Snitsky leaves the ring and the referee calls for the EMT's. Kane is gasping for air now so Snitsky decides to get back in the ring and make the cover.

Winner: Gene Snitsky

The EMT's rush to the ring as Lita also jumps in the ring. Kane is still gasping for air as swarm of referee's and paramedics surround and tend to him. They load Kane up on the stretcher as Lita looks on, a look of genuine concern on her face. Just as they start to head for the back, Snitsky runs back down the ramp and dumps Kane off the stretcher face first into the ramp then stomps away on him!
By GAWD!!! the callous SOB has destroyed KANE at Taboo Tuesday!

Images from 4w-wrestling.com Please don't direct link, addies change frequently.